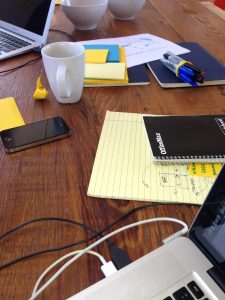 Calling all entrepreneurs, freelancers, and professionals who work from home: have you heard about The WORKROOM in Brownsburg?
This group gathers twice per week to exchange ideas, network, socialize, work on personal/professional development, enjoy snacks and coffee, and more. Spending time each week with like-minded and motivated individuals can help you stay energized in your work.
The WORKROOM is a free co-working group sponsored by the Town of Brownsburg Economic Development department, which provides WiFi, coffee, support, a workspace, and Lunch & Learn Thursdays for all members.
The members have direct input on the programming and direction of the group. It is not a space to sell or market your business, but rather an opportunity to get out of the home office and get inspired by others while supporting one another.
The WORKROOM is open from 11 a.m. to 4:30 p.m. on Tuesdays and Thursdays at Eaton Hall, 61 N. Green Street in Brownsburg, Indiana. Whether you'd like to work in a collaborative environment twice per week or just once in awhile, The WORKROOM offers a great nurturing environment for independent professionals. Learn more here.