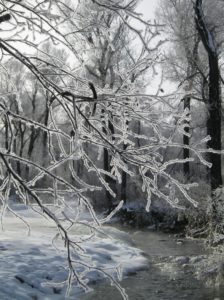 Hendricks County Parks offer a variety of activities and programs all year long. Winter can be an exciting time to visit your local parks and learn more about Indiana wildlife.
If you go hiking this winter, exercise caution and dress warmly. Snow and ice can become treacherous, but they also add a unique beauty to trees and meadows. If you prefer a guided nature experience, check out the following fantastic programs offered by naturalists in Hendricks County Parks.
Bird Feeders
Learn about bird watching and discover what different types of local birds eat at this program at McCloud Nature Park on January 23rd. Build your own bird feeder ($8 fee, up to 4 people per project.) Take some time to explore the park and do some bird watching after building your bird feeder.
Winter Tree Identification
Do you know how to identify Indiana trees without their leaves? Hendricks County Parks and Recreation naturalists will show you how! Observe bark, buds, and branches to determine the types of trees you see on the hike. Dress warmly and be prepared for a great free guided hike at McCloud Nature Park on January 30th.
Groundhog Hike
How did groundhogs become legendary for "predicting" the weather? Will we have another six weeks of winter? In this program, you'll learn all about groundhogs and their connection to winter weather predictions. You'll also discover how to make your own prediction regarding whether or not we'll have another six weeks of winter. This free program takes place at Sodalis Nature Park on January 30th.
What are your favorite Hendricks County winter destinations?