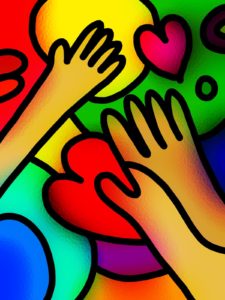 Brownsburg is a strong and thriving community, but it takes efforts from everyone to nurture that community spirit. From picking up litter to helping an elderly neighbor across the street, we can all make Brownsburg even better through small acts of kindness.
For those who are searching for more structured ways to give back to the community, there are a number of fantastic volunteer opportunities in the area.
Individuals who like working with others or students who are interested in the medical field may enjoy volunteering at Hendricks Regional Health. Volunteer opportunities abound in more than 50 areas throughout the hospital. Volunteers may choose to help with clerical work, work at the gift shop, deliver interoffice mail, greet visitors, or participate in a number of other opportunities.
Carel offers mentoring opportunities for those who want to make a difference in the lives of students.
From fostering puppies to assisting at adoption events, volunteers are an important part of Misty Eyes.
Help victims of domestic violence by working with kids activities or other programming at Sheltering Wings.
Assist Brownsburg Parks with one or more of the many great family activities that they offer in the Brownsburg community.
Support staff and students at Brownsburg Schools by volunteering your time.
Seniors often love meeting and talking with volunteers. You may want to read books or magazines aloud, help write cards/letters, or simply be a friend to a resident at Brownsburg Meadows.
Both formal and informal volunteering opportunities abound at local churches.
This is by no means a comprehensive list, but it's a start! What are your favorite ways to give back to the Brownsburg community? Where do you volunteer your time?