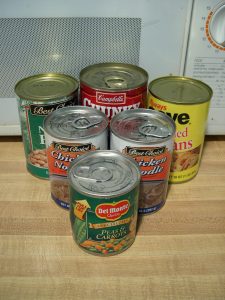 As the weather gets colder, we often look for opportunities to give back to the local community. The Town of Brownsburg comes together in annual "Let's Give" food drive event that helps a local food pantry keep shelves stocked throughout the busy holiday season.
The entire community is asked to help support this non-perishable food drive to help area families in need this winter. Donations can be made by dropping off items at the Brownsburg Town Hall Lobby at 61 N. Green Street from 7:30 a.m to 4:30 p.m. on weekdays, November 1, 2017-December 1 2017. Donations will also be accepted on Small Business Saturday on November 25, 2017 during the Christmas Under the Stars event on Saturday, December 2, 2017.
Brownsburg Parks and Recreation also has donation boxes for this community-driven effort at each B.A.S.E. site as well as the administrative office at 402 E. Main Street (open weekdays from 8 a.m. to 4 p.m.).
The non-perishable items collected will be delivered to the Messiah Lutheran Food Pantry. This pantry serves more than 700 Hendricks County families, distributing between 40-60 boxes of food each Saturday morning. The time of greatest need is November and December.
Last year's Town of Brownsburg food drive resulted in a collection of more than 7,200 items for the food pantry. Want to help, but not sure what to donate? Here is a list of items to help you get started:
Canned or dry soup
Peanut butter
Cereal
Canned meat, such as tuna and chicken
Oatmeal
Canned vegetables, beans, and fruit
Boxed potatoes
Rice
Pasta
Pasta sauce
Macaroni & cheese
The Messiah Food Pantry is open from 9 a.m. to 11 a.m. on Saturday mornings.