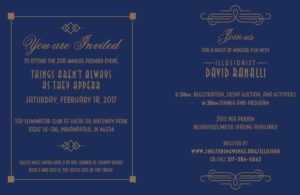 Sheltering Wings Center for Women is hosting a night of magical fun on Saturday, February 18th, 2017. This event will raise funds for the domestic violence shelter located in Danville, Indiana.
Sheltering Wings serves Hendricks County and the surrounding areas. The shelter provides safe emergency housing and other services for women and children who are suffering from domestic abuse. They also run a 24-hour crisis hotline at (317) 745-1496.
The fundraising event theme is "Things Aren't Always As They Appear" and will feature special guest illusionist David Ranalli. The evening will begin at 5:30 p.m. with registration, a silent auction, and other activities, including a 50/50 Hearts or Spades game and a raffle. The silent auction will be available online. Bids will be accepted starting on February 11th. You can find out more here.
Dinner and the program will follow at 6:30 p.m. "Things Aren't Always As They Appear" will be held at the Top Eliminator Club at Lucas Oil Raceway Park. Tickets are available for $100 per person. Get more details here.