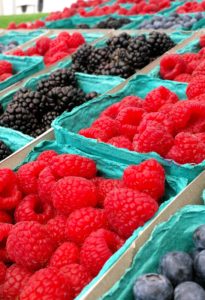 Buying local produce, meats, and other goods is a smart way to support your Hendricks County community. Keeping your dollars in the local economy helps Brownsburg and the surrounding areas thrive. Local food is better for the environment because it doesn't have to be transported as far before arriving on your plate.
Here are the dates and times for Hendricks County Farmers Markets for the 2017 season:
More than 40 vendors will be present at the Brownsburg Farmers Market this year. The market takes place on Thursday from 4-7 p.m. beginning June 1st and ending September 7th, 2017. It is held on the Town Hall Green, which is located in front of the Brownsburg Town Hall at 61 N. Green Street. Check out the kids club!
The Avon Farmers Market has a special kids zone with fun activities for little ones. The market is held on Tuesdays from June-September from 4-7 p.m. in the south parking lots of the Avon Hendricks Regional Health Building. Find more information here.
Danville Chamber of Commerce Farmers Market
The Danville Chamber of Commerce Farmers Market is held on Saturdays from May 13th to September 2nd, 2017. You'll find the market on the west side of the Hendricks County Courthouse on Jefferson Street.
Plainfield Chamber Farmers Market
The Plainfield Farmers Market is held on the lawn of the Plainfield Friends Meeting, located at US 40 and SR 267N in downtown Plainfield. The market is held on Wednesdays beginning June 7th, 2017 from 4-7 p.m.