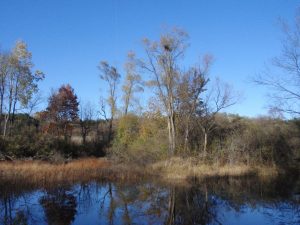 Celebrate McCloud Nature Park's 15th anniversary on Saturday, May 5, 2018 from 10 a.m. to 4 p.m. The park was first opened to the public on May 3, 2003. The 15th anniversary will be celebrated with a free day-long festival at the park with fun activities for the entire community.
There are a variety of great activities, demonstrations, and presentations planned for the festival. Here are some highlights:
Atlatl throwing
Guided hikes to points of interest
Learn about future plans for Hendricks County Parks
Play yard games with Danville Parks & Recreation
Walk across the Bridge to the Future
Park Board President Paul Miner will share how McCloud Nature Park began. The IUPUI Center for Earth and Environmental Science will bring their mobile STEM program to the park. You'll have the opportunity to purchase lunch from food trucks. You can also buy McCloud Maple Syrup and commemorative anniversary merchandise at the festival.
What are your favorite memories or events attended at McCloud Nature Park?