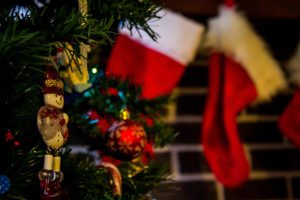 There are lots of great holiday happenings in Hendricks County for the first weekend of December 2018. You can see the full list on our calendar, but here are some highlights:
On Saturday, December 1st, the Brownsburg Lions Clubs hosts its annual Breakfast with Santa at Bundy Lodge in Arbuckle Acres Park. Children can visit with Santa and have their photos taken, and everyone can enjoy a delicious breakfast. Breakfast is $7/person for adults, free for kids ages 6 and under.
This popular event sells out, so be sure to register as soon as possible. For $12/wreath, up to two people can craft a wreath out of wild grapevine, fresh evergreen, and other decorative items. Get into the holiday spirit with a cozy afternoon at the McCloud Nature Center!
The Holiday Bazaar on December 1st raises funds for the Brownsburg Older Adult Alliance with everything from a cake walk to a 50/50 raffle. Over 60 vendors will be present with gift items, holiday treats, and more.
The Avon Community Heritage Festival is hosting the annual tree lighting at Avon Town Hall Park on December 1st. The event is free for everyone. Enjoy live entertainment, hot chocolate, fireworks, pictures with Santa, and more.
Brownsburg's annual Christmas Under the Stars parade and tree lighting is a favorite local tradition. Visit with Santa at Town Hall, enjoy holiday music, and see a light show on December 1st!
Santa can't eat cookies and cocoa all the time! Join him for a bowl of chili at the Coatesville Fire Department on December 1st. Dinner is a freewill offering or you can pay with a donation of non-perishable food items for the Coatesville Food Pantry. Photos with Santa and a great raffle round out a fun evening in Coatesville.
What are your favorite local holiday traditions?