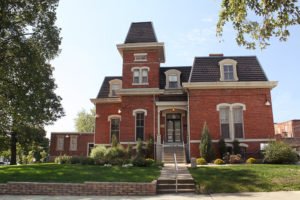 Located in the former Hendricks County Sheriff's residence and jail, the Hendricks County Historical Museum offers a treasure trove of local history. The building was built in 1866 and served as the Hendricks County jail until 1974. The museum is registered on the National Register of Historic Places and was the first building in Hendricks County to earn that distinction.
Upon visiting the museum, you'll find an extensive collection of artifacts that date back to 1866. Several rooms are decorated in the early 20th century style, including the parlor, kitchen, and bedrooms.
There are several permanent exhibits showcasing life in the early 1900s as well as life in Hendricks County through the years. Here are a few highlights:
Central Normal College room: Central Normal College focused on training teachers and was located in Danville for 73 years. See yearbooks, photos, and more on display in the museum.
Military Room: View items from the Civil War, World War I, World War II, and the Korean War on the first floor of the museum. Displays include uniforms and other mementos.
Parlor: This room features the original fireplace, a spinning wheel, a Victrola, a pump organ, stereoscopes, and much more.
Adult and children's bedrooms: These rooms show furniture, clothing, accessories, and decor from the early 1900s.
Current changing exhibits include a number of fun items. Check out Through the Years with Children's Literature, a collection of antique children's books and toys on loan from a local teacher. See promotional posters from Danville's Royal Theater. You can also check out quilter Jo Terrell's quilt featuring historic churches found in Hendricks County.
You can visit the Hendricks County Historical Museum on Saturdays from 11 a.m. to 3 p.m. from March through December. There is no admission fee, but donations are encouraged. You'll find the museum at 170 S. Washington Street in downtown Danville.