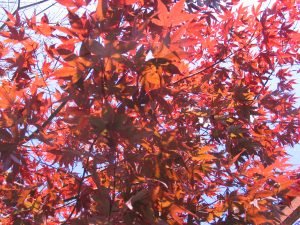 The Parks Foundation of Hendricks County and Hendricks County Parks & Recreation are partnering to host their annual Fall Colors Run on Saturday, October 21, 2017 at McCloud Nature Park. The Fall Colors Festival, which is free for everyone to attend, will begin immediately after the run.
The Fall Colors Run features one-mile, 5K, and 10K courses through the trails of McCloud Nature Park and alongside Big Walnut Creek. Runners and walkers will see the peak of fall colors on these beautiful courses. The run begins at 9 a.m. All participants will receive commemorative winter hats and warm up around the post-race campfire with refreshments. All proceeds from this event go to the Parks Foundation of Hendricks County. Get more details and register here.
The Fall Colors Festival will be held from 10 a.m. to 4 p.m. There will be a number of fun activities for all ages, such as the opportunity to operate a cider press, try archery, climb a tree, throw an atlatl, decorate a pumpkin, and more! Hayrides will be available for a small fee.
The 6.5 miles of trails at McCloud Nature Park will be open for exploration. The heron-themed prairie maze can also be explored. The Fall Colors Festival is free to attend, with no advance registration required. This event is appropriate for all ages and is open to everyone, no need to participate in the run to attend!