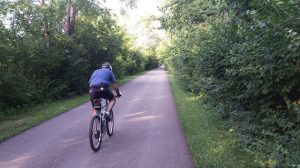 Hendricks County offers a number of well-maintained trails, parks, and spaces for those who enjoy spending time outdoors. The still developing Vandalia Trail is a multi-use trail that currently has 17 miles of hiking/biking trails as well as areas for equestrian use.
The Friends of the Vandalia Trail recently announced that a 4.5 mile section of the trail in the Amo/Coatesville area has officially become a county park. The equestrian trail that runs parallel to this area of the trail will be upgraded this summer. Hendricks County Parks will make improvements to this section of the trail. The bike path will be paved, public restrooms and trailheads will be added, and drainage improvements will be made.
Weekly bike rides are held from May-August on Tuesday evenings at 6:30 p.m. The cycling group meets in Amo on the 1st, 3rd, and 5th Tuesdays of each month at the trail parking lot that is located at the intersection of Railroad and Vine Streets. The group meets at Franklin Park near White Lick Creek on the 2nd and 4th Tuesdays of the month. This bike ride is free and open to the public. A monthly trail breakfast bike ride is held on the 3rd Saturday of each month from May to August at 8:15 a.m. For more information, click here.
The weekly Hendricks County Parks Summer Fun Run series will be held on sections of the Vandalia Trail on the following dates:
June 22: Al & Jan Barker Sports Complex in Plainfield
June 29: Vandalia Trail trailhead in Amo
August 10: Carlucci Recreation & Aquatic Center in Plainfield
These run/walk events are free and open to anyone who would like to participate.
Volunteers are essential to the maintenance and development of the Vandalia Trail. Click here for information about volunteering opportunities.
What are your favorite outdoor spaces in Hendricks County?