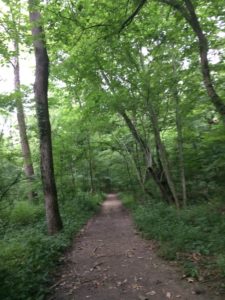 Have you visited a Hendricks County park recently? July is Park and Recreation Month, so it's a great time to get outside and enjoy all that Hendricks County has to offer. Whether you want to get fit, splash around, star gaze, or learn something new, there are plenty of great resources and opportunities in your own backyard.
The National Recreation and Park Association (NRPA) is issuing weekly challenges to get people out and about in local parks and recreation facilities. There's still time to participate! Between July 18-24, you're invited to snap a selfie with your friends and community, and between July 25-31, NRPA is asking for selfies that showcase your superhero side. NRPA will award weekly prizes. You can enter the content by uploading your photo to Facebook, Twitter, or Instagram using #SuperJuly and #SuperPark Selfie. See official rules here.
McCloud Nature Park: 232 acre park including more than six miles of hiking trails, year-round programs, a nature center, picnic facilities, modern restrooms, and access to Big Walnut Creek.
Sodalis Nature Park: 210 acre park with 5.5 acre pond for fishing (don't forget your fishing license), 3.5 miles of nature trails, and a beautiful picnic area.
W.S. Gibbs Park: Under development.
Vandalia Trail: The previous Vandalia Railroad has been re-purposed for recreational use by cyclists, walkers, runners, and more.
In addition to county parks, there are a number of town parks to explore in Hendricks County. What are you waiting for? Get outside!