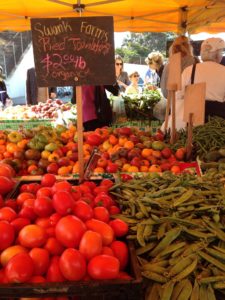 The Town of Brownsburg has once again teamed up with IU Health West Hospital to sponsor the Brownsburg Farmers Market. The farmers market offers shoppers the ability to purchase local foods and goods directly from vendors while enjoying the beautiful Indiana summer weather with friends and neighbors.
Brownsburg Parks is partnering with the market to present a summer concert series. Performances will be held on June 4th, July 2nd, August 6th, and September 3rd. The Brownsburg Parks Rec Trailer will offer activities for kids on June 25th, July 16th, July 30th, and August 27th. These activities include obstacle courses, relay races, Twister, and more.
A number of local vendors are participating in the 2015 farmers market, including:
Diener Farms
Doterra Essential Oils
Global Soaps
The Kickstand
Lee Mitchell
Walnut Fork Crafts
Applications are still open for vendors. To become a vendor at the Brownsburg Farmers Market you must be a grower, producer, or baker. All goods for sale must have been produced or grown in Hendricks County or the surrounding counties.
The Brownsburg Farmers Market will be held on Thursday evenings from 4 to 7 p.m. beginning June 4, 2015 and ending on September 3, 2015. The market is located on the Brownsburg Town Hall Green. The Brownsburg Farmers Market strives to make quality healthy food available to everyone; many of the market vendors accept SNAP and WIC benefits. For more information, ask at the market hub at the farmers market.
Bring the whole family to the Brownsburg Town Hall Green on Thursday evenings this summer and enjoy the market!