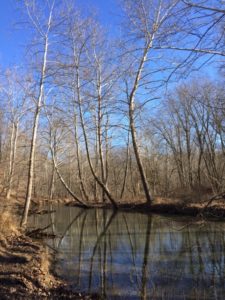 Events are being held all year to celebrate Indiana's bicentennial. Hendricks County is showing Hoosier pride by hosting and participating in a number of bicentennial events. 2016 is a great time to learn more about our state! Check out these local events:
Indiana Bicentennial Symbols and Emblems: Staff and patrons of Avon-Washington Township Public Library explore the symbols and emblems of Indiana in this year-long project. The library will host programs, events, displays, and interactive games that include historical information and more.
District #5 Jordan School Display: The Porch in Danville is a tearoom that is located in the one-room schoolhouse that housed District #5 Jordan School between 1856-1929. Stop in to learn about a historic school in Hendricks County.
Indiana Courthouses: Online display of photographs of all 92 Indiana courthouses as well as former courthouse buildings. The 10 most beautiful courthouses will be selected through votes. Organized by the Plainfield Rotary Club.
Avon Community Heritage Festival: Celebrate the community of Avon and Indiana history at this year's event on September 24th. Entertainment, fireworks, hayrides, vendors, tractor pull, and more.
Indiana History Quilt: Brownsburg's Scrapbasket Quilt Guild members are creating a "slice" quilt featuring Indiana history. Each slice shows scenes and landmarks associated with the state.
Hendricks County Museum Heritage Quilt: Hendricks County organizations submitted square to celebrate the 150 years of Hendricks County heritage. This quilt is on display at the museum.
Christmas at the Museum: The Hendricks County Historical Museum will be decked out with displays depicting changes in Christmas decorating styles and toys over the years. The museum will be open from 5-7 p.m. on Friday, November 25th, and on Sunday afternoons from November 27-December 18.
Avon's 200 Sculpture: Metal sculpture of the number 200 to commemorate the state bicentennial as well as Avon's 20th anniversary. The sculpture can be found at Town Hall Park near the lake trail. Hendricks County residents are encouraged to take their photo with the sculpture and post it to social media using #avon200sculpture.
Torch Relay: The Indiana Bicentennial Torch Relay winds through all 92 Indiana counties to cover more than 3200 miles over a period of five weeks. Communities will celebrate the torch with various festivities. Click here to learn more about the relay.