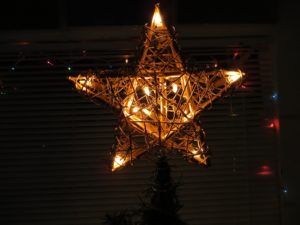 It's beginning to look a lot like Christmas as the town of Brownsburg prepares for the 10th annual Christmas Under the Stars parade.
This popular annual event is extra special because it takes place after dark, making the tree lighting ceremony even more special. The Christmas Under the Stars parade will begin at 6 p.m. on Saturday, December 3, 2016.
The parade's Junior Grand Marshal is selected through an ornament decorating contest held at the Brownsburg Public Library on November 28th and 29th. Children are invited to enter the contest here. The child who decorates the ornament that receives the most votes is chosen as the Junior Grand Marshal.
Children and adults alike love watching the floats, horses, and local bands travel through the streets of Brownsburg spreading holiday cheer. The parade's final entry features Santa riding on his sleigh.
Speaking of Town Hall, the building will be decked out for the holidays and the celebration that follows the parade. The light display begins after the parade when the Junior Grand Marshal flips the switch.
The post-parade holiday celebration also includes warm drinks and holiday music in addition to the annual visit with Santa. Children are invited to write letters to Santa while waiting in line. Free photos with Santa will be available in Town Hall immediately following the tree lighting ceremony, courtesy of Kim Berry Photography.
You won't want to miss this special holiday event! Watch the parade on December 3rd and kick off the holiday season with friends and neighbors.