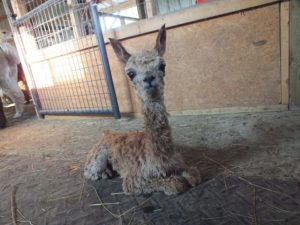 Did you know that Brownsburg is home to an alpaca farm? Montrose Farms Alpaca Ranch is part of a piece of land purchased by James B. Brown, the Kentucky War of 1812 veteran for whom the town of Brownsburg is named.
The farmhouse, built in 1876, was renovated by Chris and Lori Lovely when they purchased the farm in 2007. The family focuses on humane animal husbandry, eco-friendly living, and best practices for farm management. A section of the farm is used for cultivating hay for the alpacas. The organic orchard, vineyard, and vegetable garden on the farm allows the family to sell produce when in season.
You can meet the suri alpacas at Montrose Farms on Saturday, September 26th from 11 a.m. to 4 p.m. The open house will feature spinning demonstrations by Trudy Land of Land Goods, fiber presentations by Nomad Yarns, a raffle for a pair of alpaca socks, and tours allowing you to meet the alpacas. Admission is $1; accompanied children ages 12 & under are admitted at no charge.
You'll also have the opportunity to do some shopping at the farm–alpaca items make unique gifts! Socks, hats, berets, gloves, mittens, scarves, blankets, and teddy bears will be available in addition to raw fleeces.
The event is also a collection point for donations of winter coats, hats, gloves, mittens, and toys for the Turtle Mountain Indian Reservation. Montrose Farms is located at 3750 N. County Road 950 East in Brownsburg.