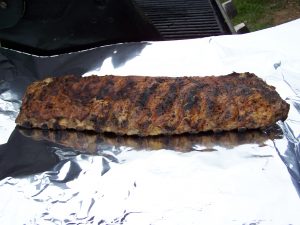 Enjoy a taste of summer at the 2018 Hendricks County Rib-Fest on Saturday, June 30, 2018. Local restaurants will compete for bragging rights for best ribs and best sauce.
This event features live entertainment, activities for kids, fireworks, and lots of great food vendors! The event is free for all to attend; parking is $5. This year's event will be held at Kingsway Christian Church, 7981 E CR 100 N in Avon. Note that CR 100 N (Dan Jones Road to Forest Commons Entrance) will be closed between 3:00-11:00 p.m. on Saturday, June 30th.) Attendees also love the Rib-Run and Avon Balloon Glow, both of which are held in conjunction with the Rib-Fest.
Here's a quick peek at the day's schedule:
8:00 a.m. Rib Run 5k and 1/4 Slab Kids Run begins (You can register and get more information here.)
4:00 p.m. Rib-Fest food vendors, kids games, balloon activities, and booths open
4:00 p.m. Kingsway Band
6:00 p.m. Jambox
7:00-9:00 p.m. Tethered balloon rides
8:00 p.m. Levi Riggs
8:45-9:30 p.m. Balloon Glow
Fireworks will begin at dark
If you'd like to learn more/purchase tickets for tethered balloon rides, click here. There is also an app for this year's event; receive $2 off parking by presenting the downloaded app at the gate.
Bring chairs and blankets and enjoy the show!