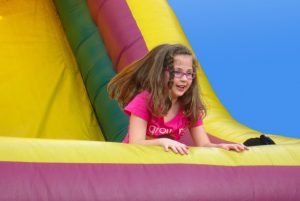 Prevent Child Abuse Hendricks County presents the 2018 Hendricks County Kids Fair on Saturday, October 13, 2018 from 12-4 p.m. at the Hendricks County 4-H Fairgrounds. This day is intended to be a fun way to learn about child safety, community organizations, and more.
The fair features fun giveaways, activities, and games for kids, who are encouraged to attend in costume if they'd like. Kids will also have a chance to get up close and personal with local police and fire trucks and to meet Hendricks County police officers and fire fighters.
Courage and Kindness Princesses will be selected, and everyone will enjoy live local entertainment. The Circle City Ghostbusters will be in attendance, along with a number of local businesses and community organizations.
The Kids Health Fair features car seat inspections, safety information, and safety giveaways. There's also a warm winter coat giveaway in addition to bounce houses.
Everyone is invited to enjoy free food and refreshments at this community event. You can see the latest information about the event here. Admission is free, and both local and non-profit booths may be rented for a fee.