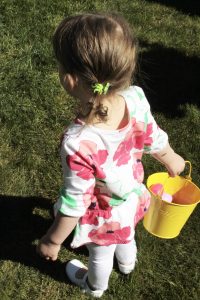 There are several Easter events in Brownsburg and Hendricks County, including dinners, services, and other events at a number of local churches. There are also a number of Easter egg hunts this time of year. Here are three upcoming events to check out!
This annual tradition is held at Arbuckle Acres Park. This year's egg hunt is bigger than ever, featuring 14,000 eggs, raffle prices, music, and more. The 2018 Brownsburg Parks Easter Egg Hunt will take place on Saturday, March 24th. Photos with the Easter Bunny will begin at 9:30 a.m. and the egg hunt will begin at 11 a.m.
Looking for something a little different? The Underwater Egg Hunt will be held at the Robert A. Carlucci Recreation & Aquatic Center on Saturday, March 24th, 2018 from 10 a.m. to noon at the indoor splash island. Kids will be separated by age group and will hunt for eggs in pools appropriate for their ages at separate times. Lifeguards will be present and photos with the Easter Bunny will be available.
Changes Home Care will hold their 2nd Annual Community Easter Egg Hunt on Saturday, March 24th. The event is open to all and will include refreshments, games, prizes, and more. There will be three separate egg hunt times by age group.
The 2018 Hummel Park Community Easter Egg Hunt will take place on Saturday, March 31 from 9:45-11 a.m. This event is for children up to 10 years of age and will feature staggered start times by age group, bounce houses, face painting, free popcorn, and more. Free of charge.
From 10:30 a.m. to noon on March 31, Hope Community Church in Brownsburg will host a community Easter egg hunt with 10,000 eggs. Egg hunts will take place by age group and feature prizes and treats. Free event.
From 11 a.m. to 3 p.m. on March 31, find hidden camouflaged eggs filled with nature clues on the trails at McCloud Nature Park. The clues inside each egg will help answer a question on the scavenger hunt sheet. Turn the worksheet in at the Nature Center to claim your prize. Be sure to dress for the weather and bring water! Details here.
Easter Egg Hunt hosted by Echo Church at Hendricks Regional Health YMCA from 1-3 p.m. on March 31. This event includes an egg hunt, face painting, pony rides, petting zoo, giveaways, and food trucks. Register here.