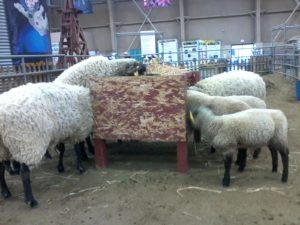 The 2017 Hendricks County 4-H Fair will take place at the Hendricks County Fairgrounds & Conference Complex at 1900 E. Main Street in Danville. This popular annual event will be held from Sunday, July 16-Saturday, July 22, 2017.
The 4-H Fair includes free live entertainment from local talent, games, carnival rides, and food, but what sets it apart from many other festivals is the array of events that take place during this action-packed week. This year's event includes:
Watermelon Eating Contest
Livestock Showings
4-H Fair Queen Contest
Car Show
Radio Control Exhibition
Cheerleading Contest
5K Run & Walk
Kids Pedal Tractor Pull
Horse Pull
Pie and Ice Cream Contest
4-H Fashion Revue
Truck Pull
Little Mister & Miss Contest
Antique Tractor Pull
And much more!
For a full schedule of the week's events, click here. You can learn about themed days and ticket information here.
Hendricks Regional Health will present the Project Lifesaver Touch-A-Truck and Child Safety Fair on Wednesday, July 19th from 3-7 p.m. This event is free with fair admission and provides everyone with an opportunity to interact with and learn about several different types of vehicles, such as construction vehicles, military vehicles, community emergency service vehicles, and more. The Child Safety Fair will include a passport activity to encourage attendees to collect signatures from different informational booths. Completed passports will be eligible to win a hot air balloon ride for four.
The Neighbors Helping Neighbors Food Drive will take place on Thursday, July 20th. Fair attendees can bring a non-perishable food item or $5 to donate in order to receive one free ticket to the Indiana State Fair. There is a maximum of five state fair tickets available per person. The End Hunger Games is another philanthropic component of this year's event designed to help those in need. The Indiana Blood Center will be on the fairgrounds for blood donations beginning at 7 a.m. on Friday, July 21st.
The entry fee pricing for the Hendricks County 4-H Fair has changed this year. The entry fee will now be charged per person rather than per vehicle, but there is still a wide variety of free entertainment at the fair. The ticket price is currently $4 per person with children 7 and under attending fee. Tickets are available at North Salem State Bank, First National Bank (Clayton Office), Hendricks County Bank & Trust, and the Hendricks Regional Health Gift Shop until July 21st, as well as at the gates. What are your favorite 4-H fair memories?